Internally and externally coating carbon steel and ductile iron pipe as well as any of the fittings needed for your project.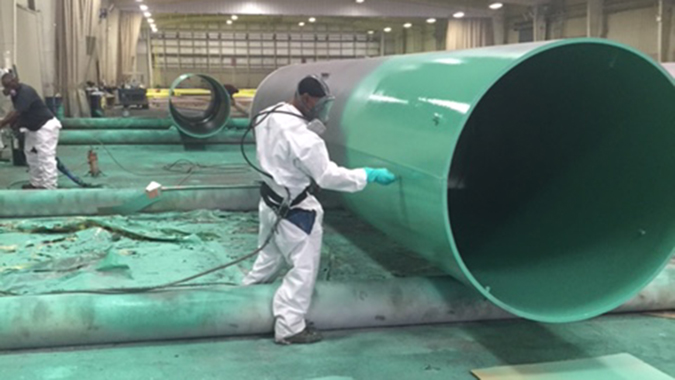 Specialty Coatings
A wide variety of liquid applied coatings and linings. Size range capabilities include 2-1/2″ through 72″ for internal linings and 1/2″ through 72″ for external coatings.
Using all major manufacturers to all specifications with a stringent QA/QC program to ensure good results every time.
Manufacturers
3M
Ameron
Carboline
Sherwin-Williams
Indurall
Tremac
Covalence
Ergonarm
Novocoat
Engineered Resin Solutions
Coating Types
Epoxies
Zincs
Alkyds
Enamels
Urethanes
Coal Tar Epoxies
Powercrete Epoxy
Field-Applied Weld Joint Kits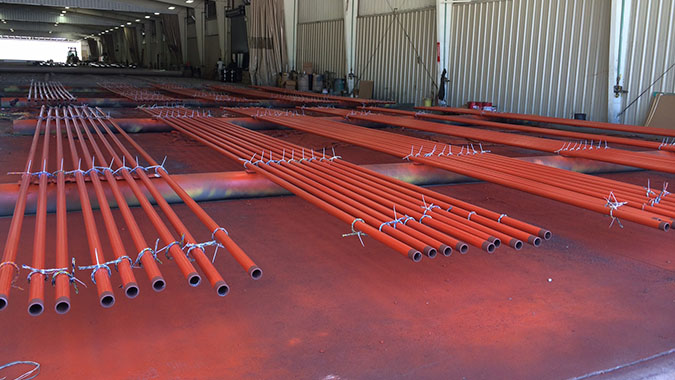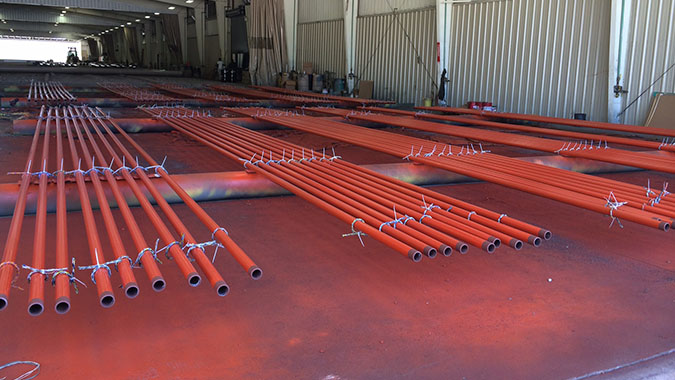 Coatings Facility
Specialty Coatings in Bessemer, AL is over 150,000 square feet of covered work area and 30 acres of lay down yard. It was designed to easily manage large orders, allowing for more efficient scheduling, faster deliveries, and lower costs to customers.
ARO Coatings (Powercrete/Dual Coat)
Jet Fuel Applications
External Cosmetic Paint Systems
Potable Water (AWWA Specified)
Valve & Fitting Coatings (OD & ID)
ID Flowliner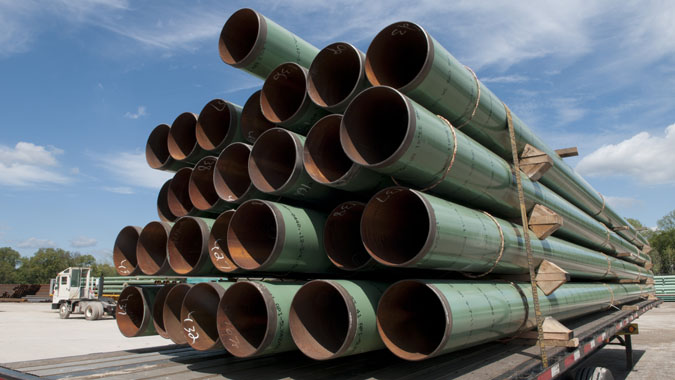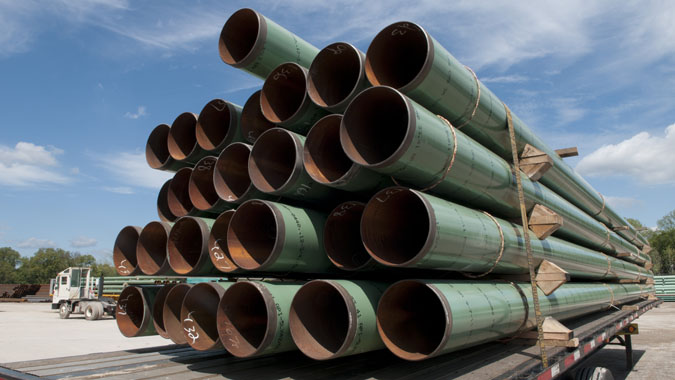 Fusion Bond Epoxy (FBE)
Our custom-built fusion bond facility boasts of the latest technology in epoxy thin film application.
Coat ¾"–30" pipe lengths up to 60'
Provide ID and OD specialty linings for jet fuel and military applications
AWWA specifications available
Benefits include:

Long Term Corrosion Protection
Engineered Solutions for Specific Applications
Good Mechanical and Chemical Protection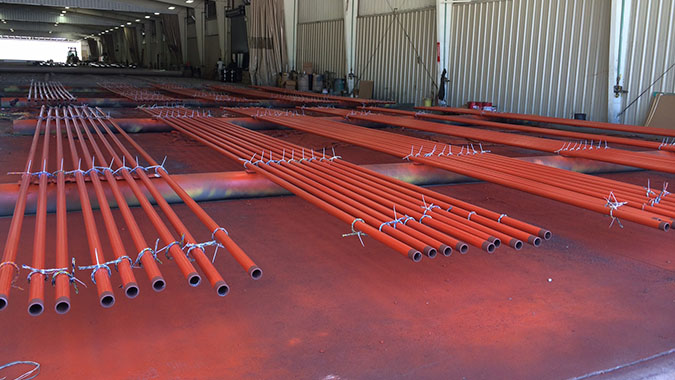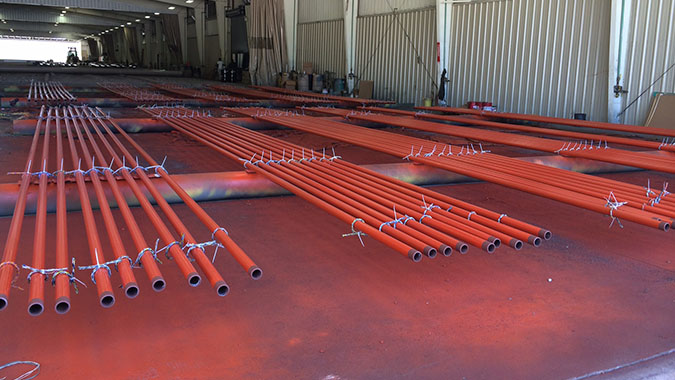 Powercrete
Powercrete R-65/ F1 is a 100% solids liquid epoxy coating with a fast cure time for efficient, user-friendly application and rapid backfill. In addition to ease of application:
Provides excellent long term corrosion protection for bare steel or FBE coated pipe
Two-component epoxy easily achieves a dry film thickness (DFT) of up to 40+ mils (1 mm) in a single application
Applied using plural component spray equipment or by hand brush, roller or trowel
Offers unique combination of handling and performance characteristics
Ideal coating for pipes, girth welds and repair & rehabilitation of existing pipelines
Consolidated Pipe & Supply owns and operates its own Fusion Bond Epoxy Coating Facility.
For  the construction of the Birmingham FBE Plant, we applied 53 years of coating experience into the design. CPS's Coatings Division provides continuous information on what happens to piping materials once coated and exposed to the elements for a few hours, a few days, or many years. This knowledge has helped us establish and maintain stringent corrosion protection checkpoints throughout our Fusion Bonding facilities.
Our corrosion inhibiting process:
1. Detailed cleaning and surface prep to eliminate oxidation and impurities that could compromise the coating
2. Create a bare, textured surface so the pipe will better accept the epoxy application
3. Heat pipe to nearly 500 degrees in our gas-fired furnace to liquefy epoxy, so it will evenly adhere to the pipe
4. Test coating thickness and electrically test to reveal any imperfections that could lead to corrosion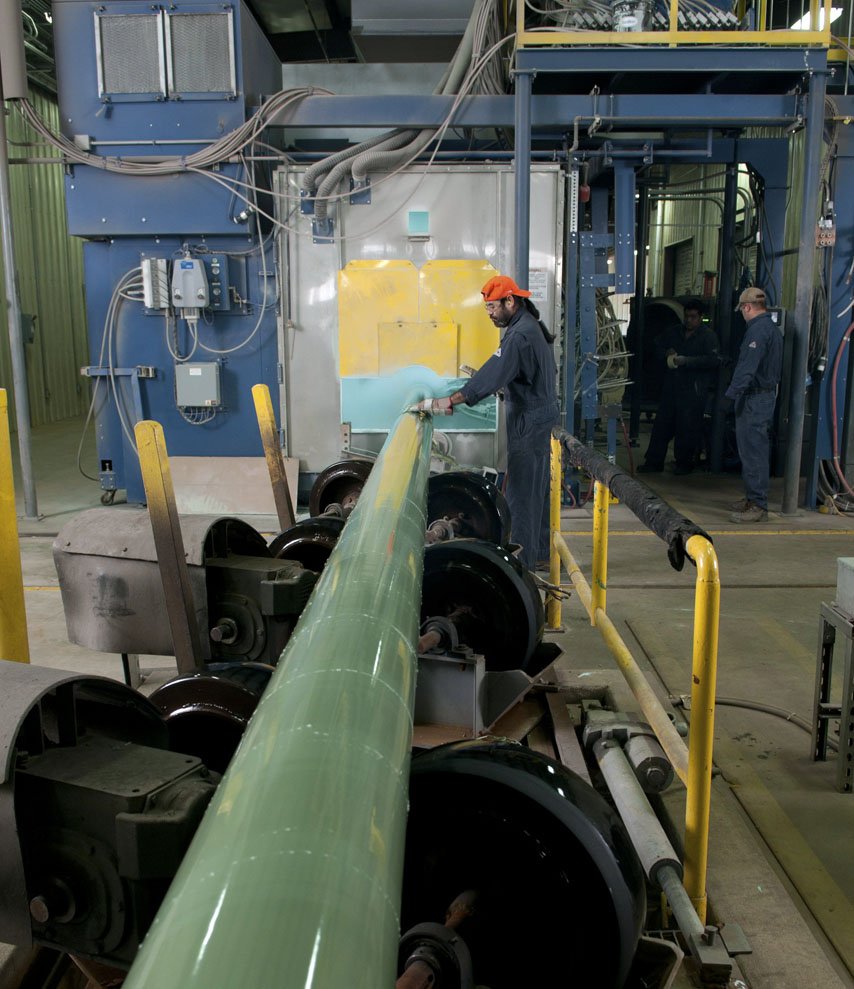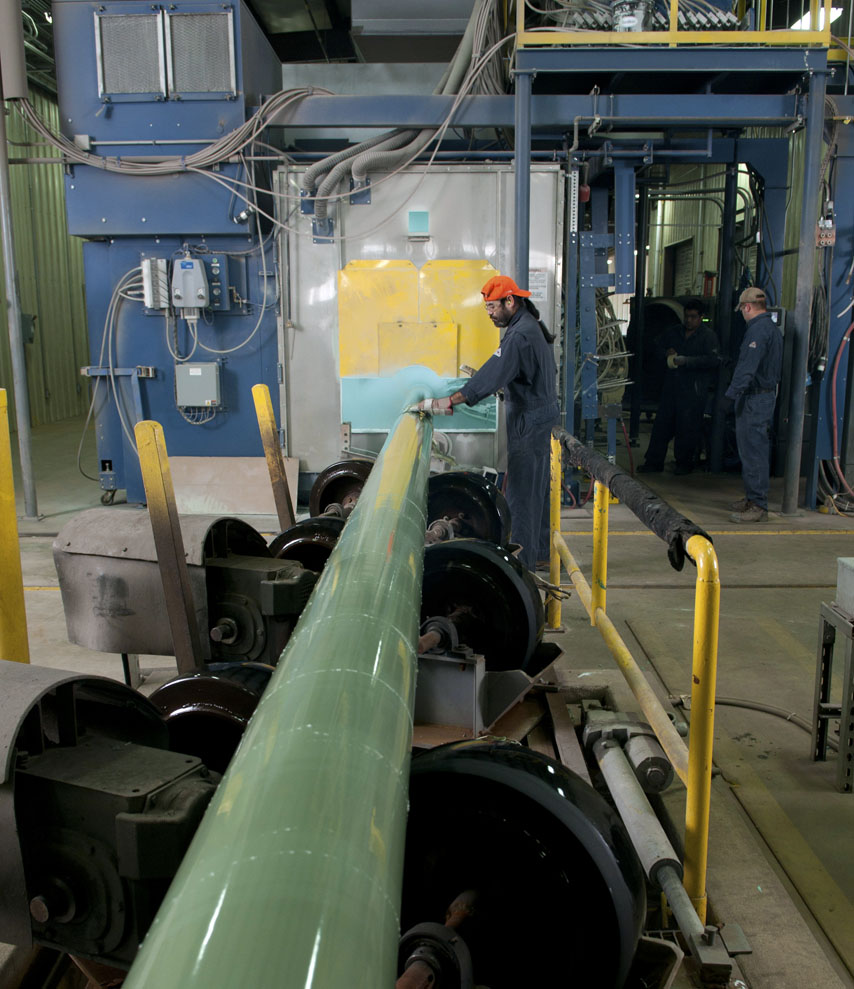 Synergy™ Coating Capabilities
Synergy™ is a multilayer coating system. Our Synergy™ pipeline machine can coat from 2 3/8" O.D. to 20" O.D., and from 20' to 60' lengths. Features and benefits of a Synergy™ coating are:
Impermeable to Oxygen
High shear or breaking strength
Superior resistance to water and moisture
Excellent durability and long-term reliability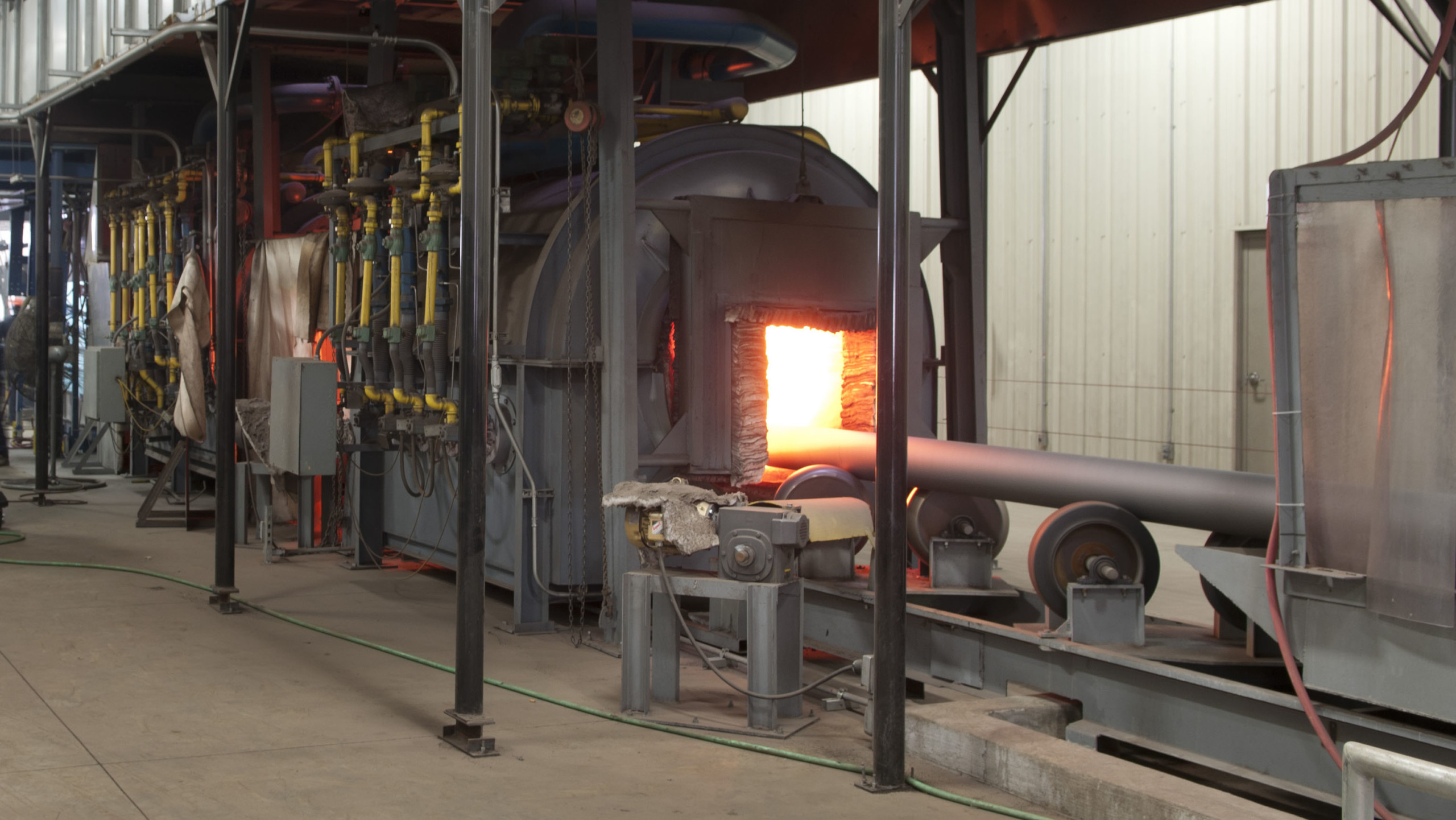 Dual Coat FBE Capabilities
We also offer dual layer capabilities that forms a tough outer layer that is resistant to gouge, impact, abrasion and penetration. Dual coat benefits include:
Protect the primary corrosion coating from damage during installation
Thermosetting, integrally bonded to the base coating
Will not shield from cathodic protection
Excellent flexibility provides an advantage over other top coats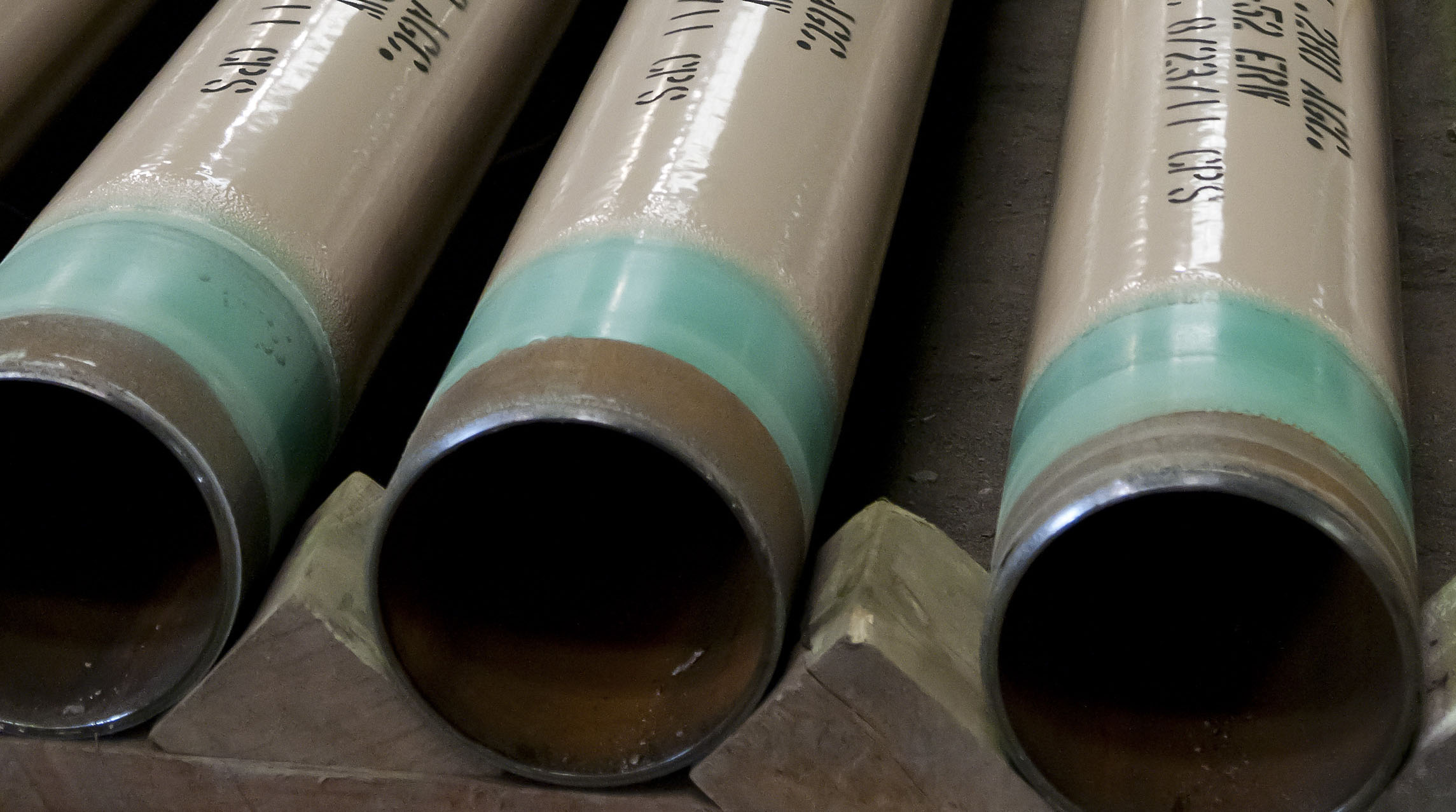 Resources
Available product specs and support materials.
Our National Network
We excel at working across the nation and have developed long-term relationships in all corners of the country. CPS has partnered with companies, municipalities, and industries in almost every state. We have more than 50 offices, multiple stocking yards, and fabrication facilities strategically located across the United States.